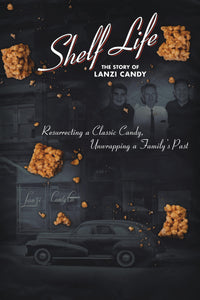 Shelf Life DVD The documentary about Lanzi's candy
Lanzi's
Regular price $19.95 $19.95 Sale
Limited Edition DVD
For 60 years, Lanzi Candy Company was one of dozens of family-run confectioneries that, alongside candy giants Brach's, Mars, and Wrigley, earned Chicago the title "Candy Capital of the World." Its founder, Elmo Lanzi, was a real-life Willie Wonka–a creator of unique candies made from machines that he invented. His most famous confection, Lanzi's Cashew Nut Crunch, would achieve international cult status, while transforming him into a local celebrity. Like many first-generation immigrants, Elmo had hoped to pass down the family business to his children. But this never happened, and ten years after selling the company to outsiders, Lanzi Candy was gone.
Twenty-five years later, Lanzi Candy fanatic Jerry Ostermann sets out to resurrect the Cashew Nut Crunch. One problem: he has neither the recipe nor the machinery to make it.  
Enter Elmo's grandson, award-winning filmmaker Michael Lahey, who follows Ostermann's quest while investigating three generations of turbulent family history. His search for why Elmo sold to outsiders uncovers a wealth of family archive, leading him into the heart of both the Chicago candy industry and the Lanzi Family itself. 
Shelf Life: The Story of Lanzi Candy
uses the fascinating world of candy making as a jumping-off point to examine the deeper, universal issues of family legacies and succession, business consolidation, immigration, and the American Dream.