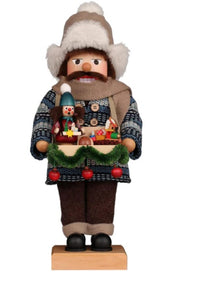 Christian Ulbricht Nutcracker Premium - Toy Peddler Limited Edition
Christian Ulbricht
Regular price $430.00 $399.00 Sale
Premium Nutcracker
0-844 - Christian Ulbricht Nutcracker - Premium size, limited edition of 2,500 pieces. Toy Peddler - Made in Germany. - 19.5"H x 7.75"W x 8.1"D
Handsigned by Ines Ulbricht
About Christian Ulbricht:
A lot of care and love goes in to making good quality products that will last and last. For the past 90 years, this principle has underlined the artistry and workmanship at Christian Ulbricht & Co. Real craftsmanship has become rare in our world, which makes each piece we produce even more precious and unique.
When new patterns and pieces are designed, it is not uncommon for the head of the company to make his hands-on contribution in the workshop. It takes years of practice and dedication to precision for our painters to learn their craft. To create each piece, absolute focus is necessary. Every creation is polished by experienced hands to infuse it with our unmatched love of detail. Wood simply couldn't be more beautiful.
See this video how wood nutcrackers are made. 
https://youtu.be/LmTGmLyT-FY