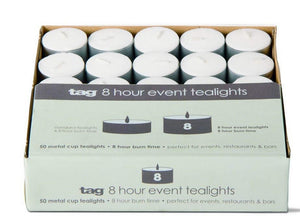 Tealight Event Candles, Perfect for Adding a Little Light to Any Room, White
The Uptown Shop
ADD A LITTLE LIGHT: The Event Candles are the perfect way to brighten up any room! Whether you're setting the mood for a romantic date, or just trying to add a little more light to your home, the Event Candles are just what you're looking for!
PERFECT FOR EVENT HOSTING: Candles are the ideal way to set a calm mood. Whether you're getting ready for a wedding or hosting the annual company dinner, candles add elegance and natural light to any event!
8 HOUR BURN TIME: The Event Candles from tag feature an 8 hour burn time, nearly double the average length for tealights!
tag - Event Candles, Perfect for Adding a Little Light to Any Room, White (0.88" x 1.5" Dia.) each in metal cup.